Introducing Course Companions
We're excited to announce a new feature that makes it super easy to integrate Family Playlists® into your curriculum: Course Companions!
Align Family Playlists to Your Scope and Sequence
Course Companions offer an easy way to view and access Family Playlists aligned to your curriculum and scope and sequence. Instead of searching for Family Playlists individually, simply go to the Course Companion tab, select the appropriate Course Companion for your grade, and then see all of the Certified Family Playlists that align with the specific units and topics in your curriculum. This makes it very easy to choose which Family Playlists you want to use and get started with your families.
Customized for Your Curriculum
PowerMyLearning has already provided all teachers with access to Course Companions for EngageNY/Eureka Math in grades 3-8. We also are happy to work with your school or district if you are interested in additional Course Companions for a specific curriculum or scope and sequence. Alternatively, if you are already using Family Playlists, you can reach out to us using the simple form on the Course Companion tab.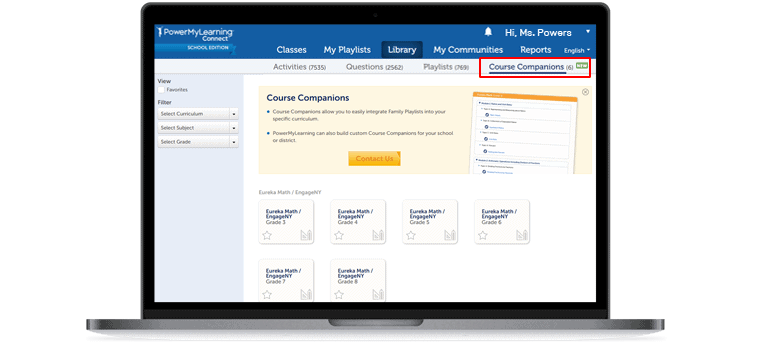 Save Time and Drive Student Achievement
Save valuable planning time and drive family engagement and student achievement in your classroom! Use Course Companions to map out Family Playlist usage throughout the year. Consistent Family Playlists usage can deliver major results in your classroom because we all know effective family engagement is key to student success. For example, a recent study found students who used Family Playlists made statistically significant gains in math equivalent to four additional months of learning.