Our work in
Greater Los Angeles
PowerMyLearning in Greater Los Angeles has partnered with more than 200 schools and 38 library branches. We have served more than 185,000 students, parents, and teachers since 2008. PowerMyLearning has demonstrated significant impact on student achievement, teacher instructional practices, and parental confidence.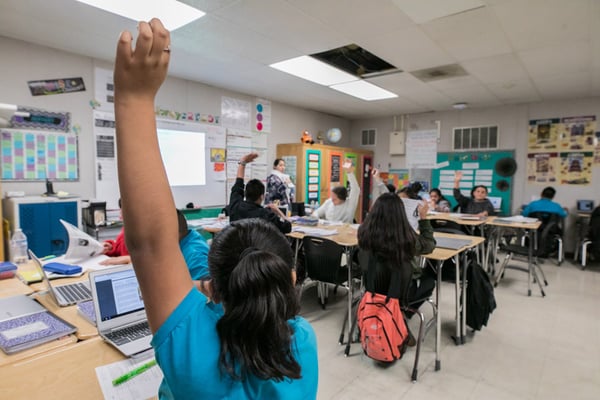 "Thanks to
PowerMyLearning
, I've been able to further differentiate my instruction this year far more than what I've been able to provide in the past. With the support of
PowerMyLearning
, I was able to differentiate my instruction by using real-time data from assessments to dynamically structure my student groups."
Our partnerships
PowerMyLearning partners with school leaders, teachers, students, and families at high need, under- served public schools and districts throughout the Greater Los Angeles Area. At our partner schools, more than 75% of students qualify for free or reduced-price lunch, and 50% of students are English Learners.
We support schools through professional development, Family Playlists, and online family workshops. Our services help educators integrate new instructional approaches and deepen school-home connections. Our family workshops empower parents to become stronger learning partners for their children. As a result, students build their social-emotional learning skills and embark on a path to academic and lifelong success.
"My coach's feedback gave me the confidence I needed as a teacher. Also, working together we came up with a standard, a learning target, and a testing strategy I could focus on during my lesson. My lessons were strong, more focused, and more impactful for the students."
Our supporters
This list reflects gifts above $5,000 and does not include individual contributions.
$100,000+
All Points North Foundation
$50,000-$99,000
Capital Group Companies
The Johnny Carson Foundation
The Green Foundation
Kinder Morgan Foundation
Ronus Foundation
$25,000-$49,999
The Ahmanson Foundation
Joseph Drown Foundation
The Kenneth T. and Eileen L Norris Foundation
The WHH Foundation
$10,000-$24,999
Belkin International, Inc.
Kirkland & Ellis LLP
$5,000-$9,999
Porsche Cars North America, Inc.
Our location
PowerMyLearning
Greater Los Angeles
PO Box 515381
PMB 16373
Los Angeles, CA 90051-6681
T: 213-222-0100 | Email us