PowerMyLearning's
Framework for Teachers
Strengthen teacher practice
and

engage families in student learning.

Our Framework for Teachers empowers educators to activate the triangle of learning relationships between students, teachers, and families. When the trio of teachers, families, and students collaborate on the same learning goals, schools significantly improve student outcomes.

​Discover how to authentically engage students and partner with their families across four domains: Learning Environment, Instructional Planning and Delivery, Data-Driven Decision Making, and Student Agency. Within each domain, the Framework provides research-based instructional practices that can be implemented with students and with families.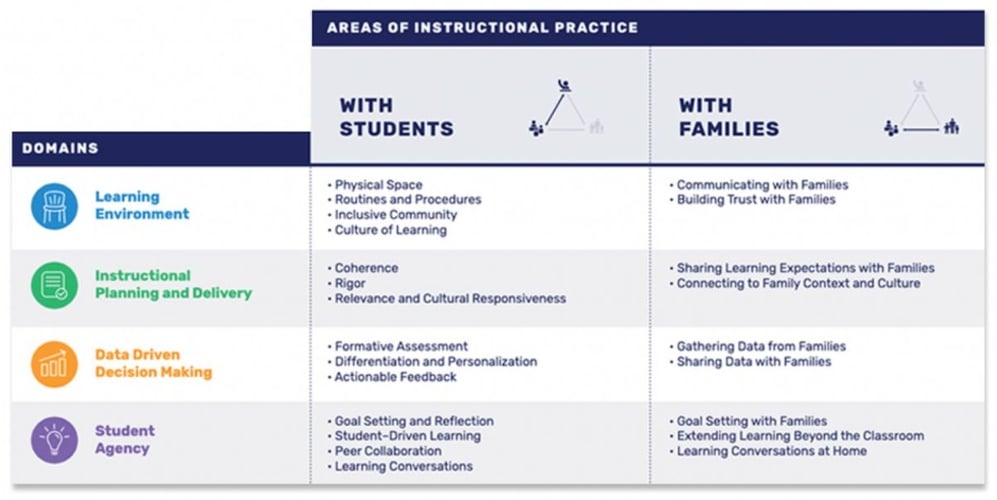 The Framework is grounded in core concepts from the research literature:
All students have the capacity to engage in rigorous learning—regardless of race, gender, learning differences, socio-economic status, or background. Students need to feel safe, respected, and valued in order to learn.
Families are essential partners who want success for their children and can be invaluable assets to student learning. With strong communication and trust in place, all families can provide unique insight to teachers, help students set and work toward goals, and support ongoing learning and exploration at home.
Students thrive in school and beyond when they have strong social-emotional learning (SEL) skills. They can develop these skills through opportunities at school and at home to drive their own learning, set and work towards goals, reflect, apply feedback, and collaborate with others.
All students benefit from seeing a diversity of cultures and ideas reflected in instruction and in their classroom environment. Teachers can deepen student learning by providing rigorous, personalized instruction that connects academic concepts to students' lived experiences.