Our work in New York City
In New York City, PowerMyLearning has partnered with more than 100 schools and served more than 100,000 students, parents, and teachers since 1999. PowerMyLearning has demonstrated significant impact on student achievement, teacher instructional practices, and parental confidence.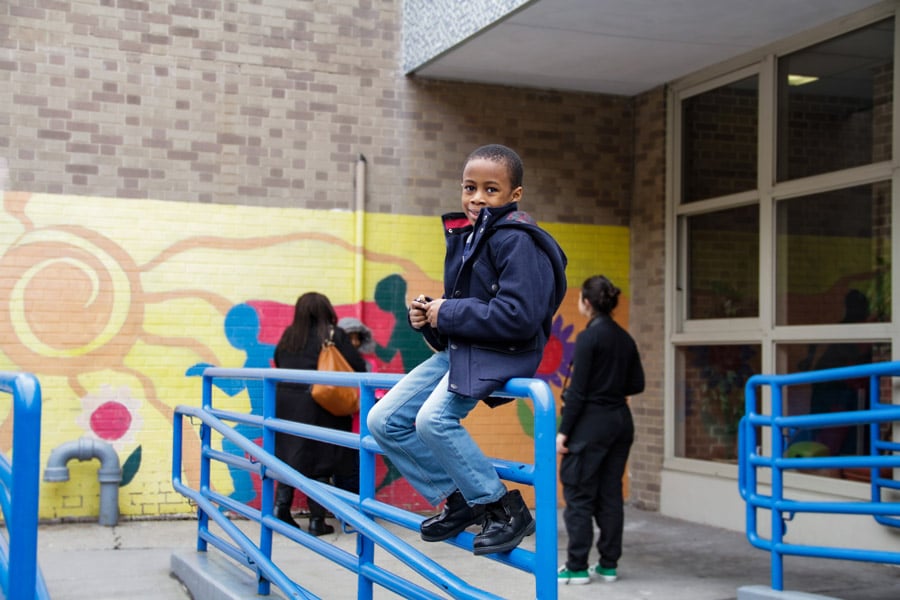 I am excited to join because I have a strong belief that families are our great partners in this mission of making a difference in the lives of children we teach.
Our partnerships
PowerMyLearning is proud to partner with public schools across New York City's five boroughs. We support schools through professional development, Family Playlists, and online family workshops. Our services help educators integrate new instructional approaches and deepen school-home connections. Our family workshops empower parents to become stronger learning partners for their children. As a result, students build their social-emotional learning skills and embark on a path to academic and lifelong success.
Bronx:
Bronx School for Law, Government, and Justice

The Bronx Mathematics Preparatory School

Jonas Bronck Academy

J.H.S. 123 James M. Kieran (Bronx Urban Community School)

M.S./H.S. 221 South Bronx Preparatory: A College Board School

P.S. 65 Mother Hale

P.S. 72 Dr. William Dorney

P.S. 77 Bedford Park Elementary

P.S. 94 Kings College School

P.S. 279 Captain Manuel Rivera, Jr.

M.S. 101 Edward R. Byrne

Creston Academy
Brooklyn:
Brooklyn Landmark Elementary School

J.H.S. 50 John D. Wells

J.H.S. 62 Ditmas

P.S. 26 Jesse Owens

M.S. 340 North Star Academy

P.S. 288 The Shirley Tanyhill

P.S. 264 Bay Ridge Elementary School
Manhattan:
Future Leaders Institute Charter School

P.S. 34 Franklin D. Roosevelt

P.S. 33 Chelsea Prep

P.S. 64 Robert Simon

P.S. 140 Nathan Straus

P.S. 206 Jose Celso Barbosa
Queens:
P.S. 40 Samuel Huntington

P.S. 89 Elmhurst

P.S. 110

I.S. 237

P.S. 280

York Early College Academy

P.S. 171 Peter Van Alst
Staten Island:
I want all students to be able to unlock the possibilities that technology can offer. And with PowerMyLearning, it's done in such a way that teachers are a part of the process in the classroom, and parents are part of the process at home. That is crucial.
Our supporters
Through the support of foundations, corporations, local government, and individuals, PowerMyLearning is making a real difference in strengthening the learning relationships between students, teachers and families across New York City. We are proud to recognize the following institutional funders whose generosity furthers our work to support public schools in under-served communities. Make a tax-deductible gift to PowerMyLearning in New York City.
Foundations
Booth Ferris Foundation

Change Happens Foundation

The Joseph H. Flom Foundation

The New York Community Trust

The Heckscher Foundation for Children

Henry E. Niles Foundation

Robin Hood Foundation

The Staten Island Foundation

Venable Foundation, Inc.
Corporations
Altice
Brooklyn Cyclones
Capalino+Company
Charter Communications
Con Edison
Dell EMC
EY
ITAMG
L'Oreal USA
Morgan Stanley
RTP Technology
Government
NYC Council Member Adrienne Adams
NYC Council Member Andrew Cohen
NYC Council Member Antonio Reynoso
NYC Council Member Carlina Rivera
NYC Council Speaker Corey Johnson
NYC Council Member Costa Constantinides
NYC Council Member Daniel Dromm
NYC Council Member Debi Rose
NYC Council Member Diana Ayala
NYC Council Member Francisco Moya
NYC Council Member I. Daneek Miller
NYC Council Member Justin Brannan
NYC Council Member Laurie Cumbo
NYC Council Member Mark Gjonaj
NYC Council Member Mark Treyger
NYC Council Member Mathieu Eugene
NYC Council Member Peter Koo
NYC Council Member Rafael Espinal Jr.
NYC Council Member Rev. Fernando Cabrera
NYC Council Member Ritchie Torres
NYC Council Member Ruben Diaz Sr.
NYC Council Member Robert Cornegy
NYC Council Member Vanessa Gibson
Our location
New York City
228 Park Ave South
PMB 16373
New York, NY 10003
T: 917-677-5506
F: 212-563-1215
Email us