PowerMyLearning's

Triangle of Learning Relationships
Students do best when teachers, students, and families collaborate on the same learning goals. We call this trio the "triangle of learning relationships." Teachers can activate this triangle by using pedagogical practices that are based on the whole child and include inviting their families into the learning process in a way that connects to curriculum.
Students bring learning to life by engaging family members in curriculum-related activities and setting learning goals.
Teachers are more culturally responsive by better understanding their students home life and out-of-school learning.
Families and teachers work as a team, providing each other with valuable insights on student learning.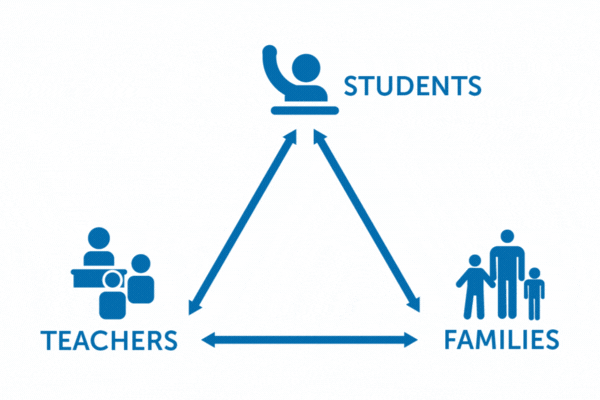 Why is the Triangle of Learning Relationships important?
The strongest relationship a student has is with their family, and families are now playing an outsized role in the learning process. Prior to the pandemic, the relationships between teacher, student, and families typically looked like a line where teachers were expected to know how to interact with their students (but not their families), and families were only invited in for "involvement" events like "Donuts for Dads" that had no impact on student learning.
If we are going to reverse our country's systematic denial of educational opportunity based on race, class, and learning differences, we now must bend this line into a triangle where students, teachers, and families are working together as a team; where families are brought in to the learning process with compassion and purpose; and where teachers get to really know their students by getting to know the people they love most—their families. As Bryan Stevenson says, it is only by "being proximate" that we can have an impact on the quality of someone's life.