PowerMyLearning Launches Family Playlists: A Groundbreaking Innovation to Engage Families
Nov 30, 2017 | Press Releases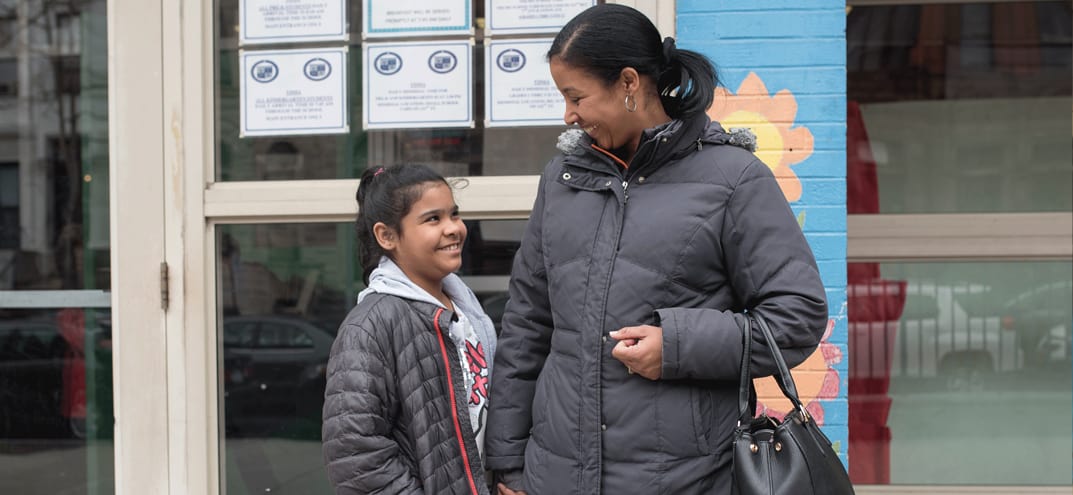 Promising Results from Pilot Set the Path for Playlists to Expand into Schools Nationwide
NEW YORK, November 30, 2017—PowerMyLearning, a national education nonprofit, launched Family Playlists—a groundbreaking innovation for grades 3-8 that enables families and teachers to partner more effectively to support student learning. The research-based technology works by solving common barriers that limit family engagement, including: the language barrier, the family content-knowledge barrier, and the home technology barrier.
After a successful pilot program at South Bronx Preparatory, a district middle school located in a high-poverty neighborhood in New York City, Family Playlists are now exclusively available on the organization's new subscription-based platform for schools and districts, PowerMyLearning Connect: School Edition.
The language barrier:

Problem: Census data show that more than one in five school-age children speaks a language other than English at home.
Solution: Family Playlists offer automatic translation.

The family content-knowledge barrier:

Problem: Many families do not feel comfortable helping their children with schoolwork given the significant differences between how they learned educational concepts when they were in school and how those concepts are taught today.
Solution: Family Playlists put family members at ease by having them play the role of "student" with their child playing the role of the "teacher."

The home technology barrier:

Problem: According to a 2015 study by the Pew Research Center, just 50% of households earning less than $30,000/year own a desktop or laptop—essentially the same percentage as 10 years ago.
Solution: Instead of relying on access to home computers, Family Playlists leverage mobile technology, which has broad adoption in low-income communities (according to a 2017 Pew Research Center Study, 92% of households earning less than $30,000 a year own a mobile phone).
"Thanks to Family Playlists, families and teachers can finally partner to support student learning. We learned a great deal from our pilot at South Bronx Preparatory, and we are excited to continue to enhance Family Playlists and ultimately transform family engagement in schools and districts across the country," said PowerMyLearning CEO and Co-Founder Elisabeth Stock.
Family Playlists are mobile-friendly home learning assignments. Family members are alerted via text message in their home language as soon as a Family Playlist is assigned to a student. Students first complete a sequence of digital activities on their own to review content (e.g., watching a short instructional video), to practice (e.g., using a game), and to check their understanding (e.g., a few questions that, when completed, give students immediate feedback). Then students are asked to complete a family exploration activity where they "teach" an adult family member at home what they have been learning. After the family exploration activity, the adult family member circles back to the students' teachers to report on how the assignment went, including whether the child seemed to understand the skill. The family members can also share an optional personal comment with the teacher.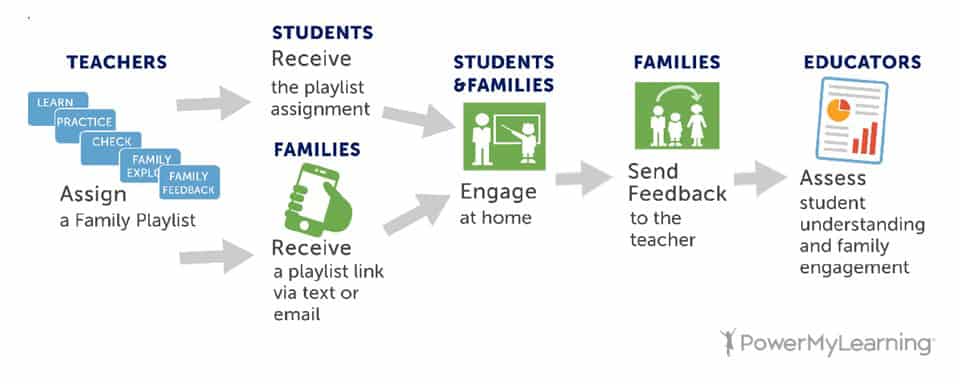 The family exploration activities in Family Playlists are interactive and many are offline. As an example, middle school students studying coordinate planes taught the concept of graphing to their family members by creating a map of their neighborhood. Each student showed his or her family member how to plot their home at the origin and then how to graph the coordinates of important locations nearby. Once the graph was completed, the family members snapped a photo using their mobile phone and sent that photo to the teacher along with their feedback on the activity.
The pilot at South Bronx Preparatory, which took place with sixth-grade teachers last school year, was made possible through anchor support from Robin Hood. The results were unprecedented.
See highlights below and download the full Family Playlists case study.
91% of families participated in Family Playlists.
84% of participating families chose to submit personal feedback to their child's teacher—a choice that was offered to families as optional.

Teachers received over 300 personal comments from families in the spring semester alone. These comments were filled with pride and emotion (e.g. "I have learned some things from my daughter while she was teaching me about coordinate planes. It was good to get knowledge back from such a long time ago from my great big girl.").

100% of participating teachers and 92% of families agreed that Family Playlists helped them develop a stronger relationship with each other.
83% of students agreed that Family Playlists led to better conversations with their family about what they were learning in school.
100% of participating families agreed that Family Playlists helped them understand what their child was learning in school.
The concept for Family Playlists is built on a strong evidence base from the Johns Hopkins University's "Teachers Involve Parents in Schoolwork" (TIPS) program, as well as a growing body of research highlighting the power of text messaging to engage families in high-need communities.
Dr. Steve Sheldon, a researcher at Johns Hopkins University who acts as an advisor to PowerMyLearning, said, "Family Playlists are exciting because they build on what we've learned about the effectiveness of TIPS. They enable educators to give all families the opportunity to improve outcomes for their children."
About PowerMyLearning Connect: School Edition
PowerMyLearning Connect: School Edition builds upon the organization's free version of the platform, PowerMyLearning Connect: Basic Edition, which has registered users in 40,000 school communities nationwide. In addition to Family Playlists, the platform offers collaborative features that provide teachers with real-time support to improve their practice. Educators can access on-demand Professional Development Playlists, join colleagues in Professional Learning Communities, and access a shared library of resources. Furthermore, schools and districts can also partner with PowerMyLearning to receive coaching and professional development services.
About PowerMyLearning
PowerMyLearning is a national education nonprofit that strengthens the learning relationships between students, teachers and families so every student succeeds. Founded in 1999, PowerMyLearning partners with schools and districts in under-resourced communities across the country to improve their family engagement and professional development in order to personalize learning for students. PowerMyLearning has regional offices in New York City, Atlanta, Los Angeles, and the Bay Area, and its programs and services extend beyond those regions in a growing number of partnerships. To learn more about PowerMyLearning, visit PowerMyLearning.org.
Contact:
Stacey Williams
Managing Director of External Relations, PowerMyLearning
212-563-7300 x163
swilliams@PowerMyLearning.org
###