Our work in
Greater Los Angeles
PowerMyLearning in Greater Los Angeles has partnered with more than 80 schools and 38 library branches. We have served more than 165,000 students, parents, and teachers since 2008. PowerMyLearning has demonstrated significant impact on student achievement, teacher instructional practices, and parental confidence.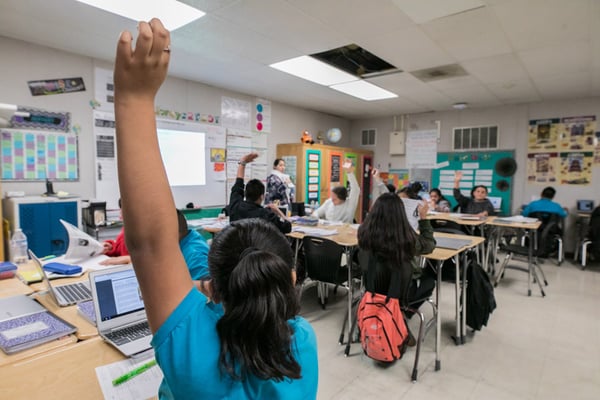 Thanks to PowerMyLearning, I've been able to further differentiate my instruction this year far more than what I've been able to provide in years past. With the support of the PowerMyLearning consultant, I was able to differentiate my instruction by using real-time data from assessments to dynamically structure my student groups.
Our partnerships
PowerMyLearning partners with school leaders, teachers, students, and families at high need, under- served public schools and districts throughout the Greater Los Angeles Area. At our partner schools, more than 75% of students qualify for free or reduced-price lunch, and 50% of students are English Learners.
We support schools through professional development, Family Playlists, and online family workshops. Our services help educators integrate new instructional approaches and deepen school-home connections. Our family workshops empower parents to become stronger learning partners for their children. As a result, students build their social-emotional learning skills and embark on a path to academic and lifelong success.
Our 2021-22 partners include Communities of Schools within Los Angeles Unified School District, Synergy Charter Schools, Watts Learning Center, Camino Nuevo Charter Academy, and Dominican Sister Vision of Hope Schools.
The students of one of our teachers have achieved the highest math scores across all of the schools in our organization. We attribute this to the high quality, hands-on support the PowerMyLearning Blended Learning Consultant has provided to this teacher.
21st Century Fox
3M
Annenberg Foundation
Bank of America Foundation
Belkin International, Inc.
The Capital Group Companies Charitable Foundation
Carnegie Corporation of New York
Dwight Stuart Youth Fund
Google (Community Grants Fund of Tides Foundation)
Grace Helen Spearman Foundation
Great Public Schools Now
The Green Foundation
IBM Corporation
Janine Chevalier & John Tobin Charitable Fund
Jefferies Investment Banking
Johnny Carson Foundation
Joseph Drown Foundation
The Kenneth T. and Eileen L. Norris Foundation
Kinder Morgan Foundation
Kirkland & Ellis LLP
Knight Law Group
Los Angeles Dodgers Foundation
Los Angeles Lakers Youth Foundation
MUFG Union Bank Foundation
Netflix
Northrop Grumman Corporation
NortonLifeLock
Rose Hills Foundation
S. Mark Taper Foundation
Weingart Foundation
The WHH Foundation
Our location
PowerMyLearning
Greater Los Angeles
PO Box 515381
PMB 16373
Los Angeles, CA 90051-6681
T: 213-222-0100 | Email us