Family Playlists are engaging, offline assignments that empower students to lead learning conversations with their families.
Using Family Playlists, students teach what they are learning to a family partner—an evidence-based strategy that strengthens students' understanding and social-emotional learning (SEL) skills. The innovation has proven impact around boosting academic achievement, growing key SEL skills, and increasing expectations of students by teachers.
How do Family Playlists work?
Family Playlists leverage the research-based learning by teaching strategy to create meaningful learning experiences and deepen relationships between students, teachers, and families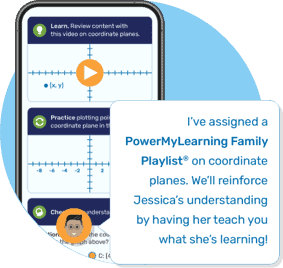 Curricular-Aligned Extension Assignments​
Teachers assign Math Family Playlists aligned to curriculum. The extension activities are delivered to families and caregivers each week via text messages in 100+ languages.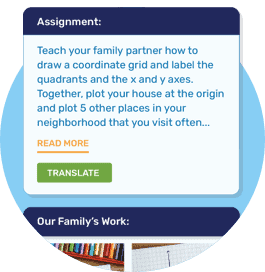 Simple, Meaningful Learning Activities
Families watch a video and gather easy-to-find materials to prep for the activities, and then the child takes the lead.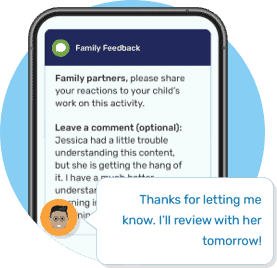 Videos Reveal Student Understanding
Families submit videos of students explaining what they've learned to teachers, and teachers are better able to evaluate student understanding.
Why choose Family Playlists?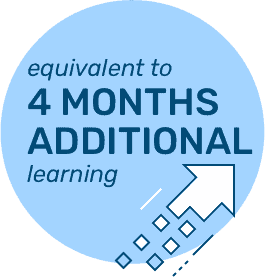 Improve Student Outcomes
A recent study found that Family Playlists had a statistically significant impact on students' math test scores, equivalent to four months of additional learning.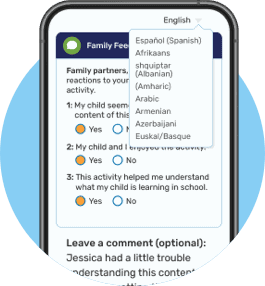 Strengthen SEL Skills
Students demonstrated 15% greater social emotional learning (SEL) outcomes as measured by the Intrinsic Motivation Inventory through short-cycle random control trials. The same study found English Language Learner (ELL) students demonstrated 31% greater sense of belonging. ​Download our case study to learn more.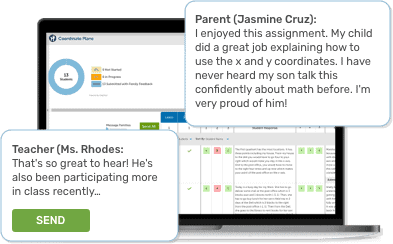 Create Equitable Learning Experiences
With Family Playlists, teachers gain valuable feedback from students' families. Coupled with assessment data collected within the Family Playlist, teachers learn more about their students as whole children and can open a meaningful dialogue with families around learning.
What teachers, families, students, and school leaders say:
With PowerMyLearning's support, our school community has united our scholars, teachers, and families with learning that extends from school to home.
PowerMyLearning's programming is exactly what our students, teachers and families need, and we have gotten fantastic feedback. We feel confident this partnership will lead to significant academic and social emotional gains.
This school year, the most valuable experience was the implementation of Family Playlists, which united myself, my kids, and their families by a magic bridge. For the first time, learning truly extended from school to my students' homes.
[Family Playlists] support me as a learner because when I explain the activity to my mom, I get a better understanding.
Our teachers love Family Playlists. They shift the homework dynamic from compliance to engagement. Students learn the material better, and our teachers can gain a deeper understanding of each student as a whole child so they can personalize their interactions and improve student outcomes.