Strengthen Student-Teacher-Family Relationships with SEL Best Practices
PowerMyLearning's Nurture Student Growth Through Social Emotional Learning program applies a trauma-informed lens and builds social-emotional learning (SEL) capacity for teachers and families. Implement this program at your school or district to strengthen relationships between students, teachers, and families through reflection and practical strategies. Accelerate educational equity by supporting your students' and families' needs.
Program elements include:

Four Teacher Workshops
Teachers learn research-based, actionable strategies to give students the opportunity to master essential skills and knowledge before they move on to the next level.

Coaching for Teachers
Guided by our experienced coaches, teachers deepen student understanding and strengthen their relationships with families by leveraging evidence-based strategies at school and at home.

Four Family Workshops in English or Spanish
Families gain confidence in supporting their child's learning. Families can access these workshops on any device and participate in English or Spanish.
Program outcomes:
Understand that all learning is social and emotional and that trusting relationships can mitigate the impacts of individual and collective trauma
Provide strategies to support children's well-being and build resilience with families
Create an emotionally-safe learning community and provide strategies for interpreting and addressing challenging behaviors in and out of the classroom
Important Funding Information: Our programs meet the definition of eligible expenses under ESSER I and II and the American Rescue Plan. Please review district guidance about using possible CARES Act and COVID Relief funds to provision these services. We are committed to helping your students succeed, which means helping you find ways to fund that success.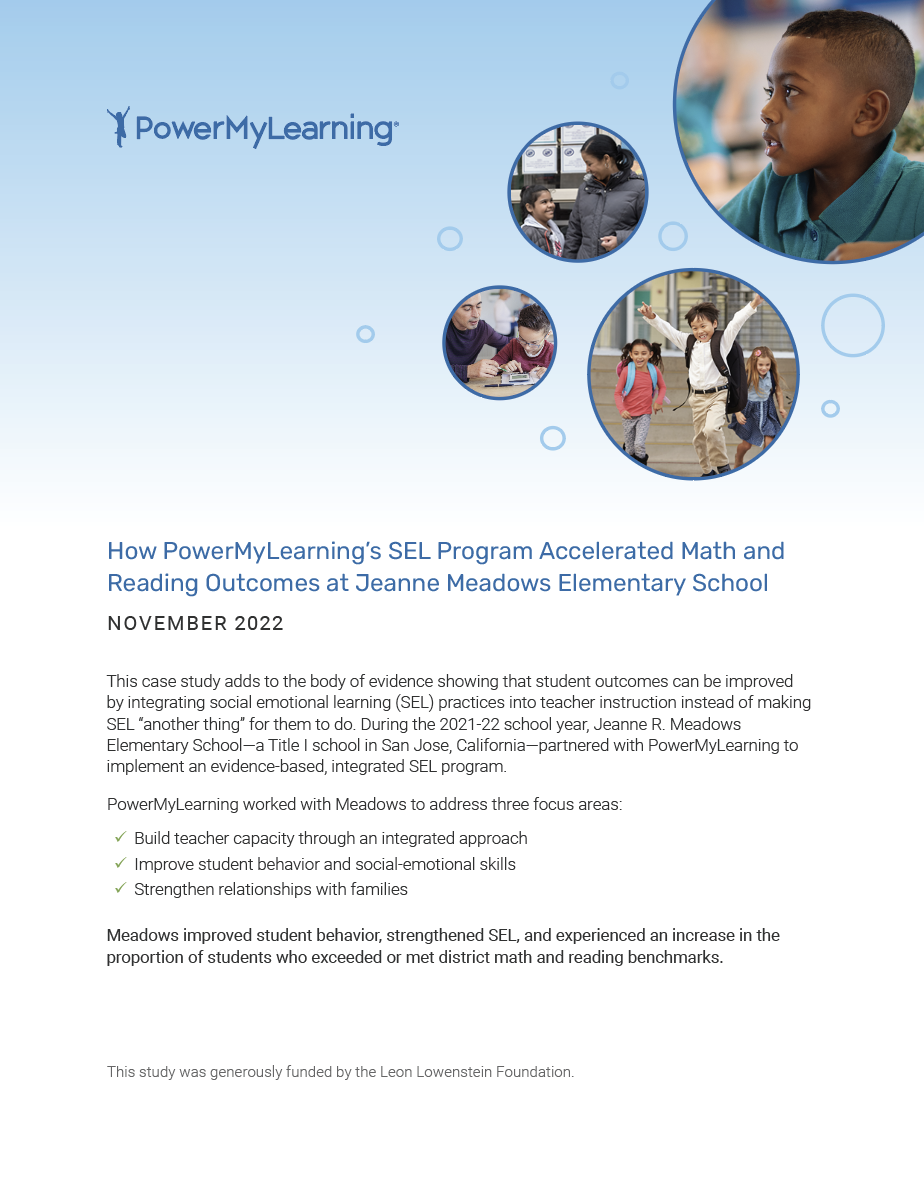 New!
How PowerMyLearning's SEL Program Accelerated Math and Reading Outcomes at Jeanne Meadows Elementary School
After integrating SEL into academic instruction, Meadows improved student behavior, strengthened SEL skills, and saw a statistically significant difference in the proportion of students who exceeded or met district math and reading benchmarks.
What participants have to say:

PowerMyLearning has helped me become more effective by bridging the gap between educator and family.
- A Partner School Teacher

I had a great experience! Now I know how to better help my child when we are at home together.
- A Partner School Parent
Meaningful results for families and teachers:
92%
of teachers left with useful strategies and knowledge to use in their practice.
94%
of families feel more connected to their child's school.
Contact us to find out how PowerMyLearning can help your district community thrive. Our flexible, affordable programs are available nationwide!