Level Up Your Data Strategy to Include Families and Accelerate Learning
Hear from Dr. Barbara Mullen, Ph.D, to discuss data and ways to leverage families in your data strategy.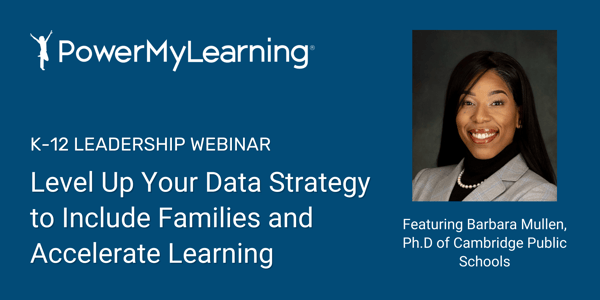 This webinar originally aired on May 15, 2022.
Learn how to leverage families as assets in this engaging webinar! Hear from Barbara Mullen, Ph.D, Superintendent Rush-Henrietta Central School District, as we explore:
Practical strategies for bringing in families to accelerate student learning and drive student outcomes.
The underlying challenges and evidence-based solutions for engaging families in your district's data plan.
How to assess multiple sets of district-level data to level up your strategy.
About Dr. Barbara Mullen
Dr. Barbara Mullen serves as the Superintendent of Rush-Henrietta Central School District Assistant. She was formerly the Superintendent for Student Services at Cambridge Public Schools. Dr. Mullen's main role at CPSD was to ensure that equitable practices are at the core of each system throughout CPSD in order to address and redress long-standing inequities and opportunities in student outcomes. Previously, she was the Chief Equity Officer at Providence Public Schools and the Director of the Learning Leader Network for the Center for Leadership and Educational Equity.
Dr. Mullen has supported Rhode Island School Districts with continuous improvement toward equitable outcomes. She is the author of Secure Your Oxygen Mask First: Strategies to Prevent Burnout in Special Education Practitioners and numerous publications both digital and print. She currently lives in North Providence, RI with her family.